Restaurants in Stow-on-the-Wold & the Cotswolds
Dining in the town can be a real treat with a selection of restaurants in Stow-on-the-Wold offering high quality food and drink. The chance to have a fine dining experience draws in a large number of tourists and locals to the town, with many restaurants sourcing the best local ingredients. Browse below to explore some of the restaurants in Stow in more detail.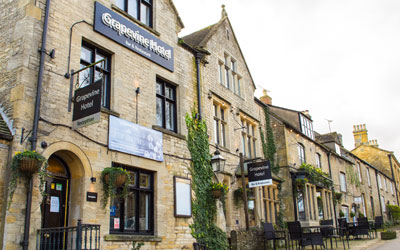 Delicious local food served in our cozy bar or under the ancient vine for a unique dining experience.
Sheep Street, Stow-on-the-Wold, GL54 1AU
Phone: +44(0)1451 830344
Website: www.vines.co.uk
Relaxed ambience draws locals and visitors alike. Leather armchairs, sofas, newspapers - the aroma of freshy brewed coffee and delicious crossiants.
Church Street, Stow on the Wold, GL54 1BB
Phone: +44(0)1451 870802
Website: www.thecoffeehousestow.co.uk
The Vine Leaf serves good locally sourced food served all day. Anything from delicious home made burgers to sandwiches, light lunches and main meals.
Talbot Court, Stow on the Wold, GL54 1BQ
Phone: +44(0)01451 832010
Website: www.thevineleaf.co.uk
Nestled in the heart of Stow-on-the-Wold, The Old Stocks Inn is a recently refurbished 17th-century coaching inn that really stands out from the crowd. Our boutique hotel is luxurious, but not stuffy. Elegant, but not pretentious. Quaint, but not twee.
The Square, Stow-on-the-Wold, GL54 1AF
Phone: +44(0)1451 830666
Website: www.oldstocksinn.com
The Kings Arms restaurant is a true hidden gem, combining quirky contemporary style with the warmth and character of one of the Cotswolds' oldest, most historic Inns.
Market Square, Stow-on-the-Wold, GL54 1AF
Phone: +44(0)1451 830364
Website: www.kingsarmsstow.co.uk
Cutler's award winning Restaurant creates exciting dishes sourcing mainly local produce. At Number Four we offer a unique personal service from a friendly team committed to making your visit memorable.
Fosseway, Stow-on-the-Wold, GL54 1JX
Phone: +44(0)1451 830297
Website: www.hotelnumberfour.co.uk
The White Hart Boutique Pub & Restaurant is set in the historic Cotswold market town of Stow on the Wold. It's Dining Room features a log fire, well spaced tables and interesting artefacts.
The Square, Stow-on-the-Wold, GL54 1AF
Phone: +44(0)1451 830674
Website: www.thewhitehartstow.com
The restaurant at The Slaughters Manor House is one of the most acclaimed in the Cotswolds, and the proud holder of three AA rosettes by the AA Restaurant Guide. Nik Chappell, executive chef, focuses his menus on celebrating the Cotswolds' excellent regional produce.
Lower Slaughter, Cheltenham, GL54 2HP
Phone: +44(0)1451 820456
Website: www.slaughtersmanor.co.uk