Restaurants in Stow-on-the-Wold & the Cotswolds
Dining in the town can be a real treat with a selection of restaurants in Stow-on-the-Wold offering high quality food and drink. The chance to have a fine dining experience draws in a large number of tourists and locals to the town, with many restaurants sourcing the best local ingredients. Browse below to explore some of the restaurants in Stow in more detail.
Nestled in the heart of Stow-on-the-Wold, The Old Stocks Inn is a recently refurbished 17th-century coaching inn that really stands out from the crowd. Our boutique hotel is luxurious, but not stuffy. Elegant, but not pretentious. Quaint, but not twee.
The Square, Stow-on-the-Wold, GL54 1AF
Phone: +44(0)1451 830666
Website: www.oldstocksinn.com
Cutler's award winning Restaurant creates exciting dishes sourcing mainly local produce. At Number Four we offer a unique personal service from a friendly team committed to making your visit memorable.
Fosseway, Stow-on-the-Wold, GL54 1JX
Phone: +44(0)1451 830297
Website: www.hotelnumberfour.co.uk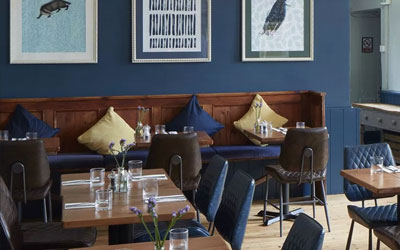 The Stag at Stow offer hearty food during the day, and exquisite dining in the evening. All food is sourced locally, and prepared on the premises to ensure that your satisfaction is met.
The Square, Stow-on-the-Wold, GL54 1AF
Phone: +44(0)1451 830674
Website: www.thestagatstow.com
In 2005, Pete and Louise Robinson bought this former butcher's shop and have turned it into one of the most popular restaurants in The Cotswolds. With casual dining, a warm and inviting atmosphere and an extensive menu to suit all tastes.
Park Street, Stow-on-the-Wold, GL54 1AQ
Phone: +44(0)1451 831700
Website: www.theoldbutchers.squarespace.com
The Surrounding Area
The restaurant at The Slaughters Manor House is one of the most acclaimed in the Cotswolds, and the proud holder of three AA rosettes by the AA Restaurant Guide. Nik Chappell, executive chef, focuses his menus on celebrating the Cotswolds' excellent regional produce.
Lower Slaughter, Cheltenham, GL54 2HP
Phone: +44(0)1451 820456
Website: www.slaughtersmanor.co.uk