Tea Rooms in Stow-on-the-Wold & the Cotswolds
There is a wide range of cafes and tea rooms in Stow-on-the-Wold. If you're looking for a light lunch, a homemade cake or a fresh coffee you won't be disappointed. Browse below to discover some of the tearooms and cafes in Stow.
Traditional English family run tearoom serving local, fresh, quality food. Specialities include home baked cream teas, delicious cakes, homemade soups and freshly prepared light lunches.
The Square, Stow-on-the-Wold, GL54 1AB
Website: www.lucystearoomstow.com
A unique coffee shop situated in the beautiful town of Stow on the Wold. The first thing you will notice as you walk through the door is the heavenly smell, and the tempting array of fresh locally baked cakes, cookies and flapjacks. They even roast their own beans on the premises.
1 Digbeth Street, Stow-on-the-Wold, GL54 1BN
Phone: +44(0)1451 831171
Website: www.newenglandcoffeehouse.co.uk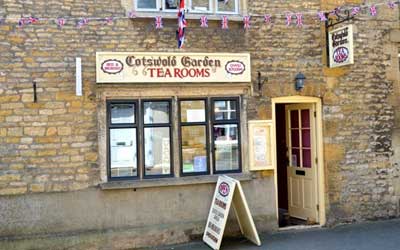 Everyone knows that good food starts with the freshest ingredients, and Cotswold Garden Tea Rooms use local produce and the finest ingredients for their homemade cakes, panini's and jacket potatoes.
Wells Cottage, Digbeth Street, Stow-On-The-Wold, GL54 1BN
Phone: +44(0)1451 870994
Website: www.cotswoldgardentearooms.co.uk
Coach House Coffee is a brand new Coffee House in the heart of Stow-On-The-Wold, set over 3 floors. Serving Rave coffee, locally sourced bakes and cold pressed juice.
1 Talbot Court, Stow-on-the-Wold, GL54 1DP
Phone: +44(0)1451 870811
From a full breakfast to a light lunch to traditional English tea you can be sure of fantastic home cooked food, a warm welcome and good old-fashioned customer service.
Digbeth Street, Stow-on-the-Wold, GL54 1BN
Phone: +44(0)1451 870210
Website: www.treebus.co.uk